While technically we are still enjoying the summer, there is something about September that just feels like a transition to a new season. Maybe it's the back to school and back to routine that signals the change. Whatever it may be, we at The Interpreter's Lab are also feeling ready to enjoy a shift into something different (but we'd like the sun to stick around for a time still!)
Fall Course Schedule
Check out the new course schedule for the fall. We know that many of you have been waiting for some of our not-so-regular courses to become available, such as Interpreting in Court & Legal Settings and Interpreting in Mental Health Settings. Because our courses are live, interactive, and instructor led, we rely on a necessary number of students before we can run the course. It really is about making the learning as meaningful and engaging for you, the student. We do not rely on asynchronous learning, meaning that we don't expect you to go at it alone. We know that learning happens with the guidance of a teacher, a mentor who can share not only knowledge but also experience. And as adults we learn best when we talk and connect our new learning to our own life experiences. At The Interpreter's Lab, it really is real training for the real world.
If you plan on attending any one of these upcoming sessions, we recommend that you register as soon as you can, thus allowing us to also plan and secure the course schedule. All class times listed are in the Pacific time zone.
What our courses offer:
Live, instructor led classes
Expert instruction by leading professionals who are practicing interpreters
Instructors who are Certified Medical, Community and Court Interpreters
Content matter experts
Supportive, responsive teaching
Easy access portal
Flexible attendance – miss a class? No problem, watch the recording
Access to online modules and class recordings for up to 3 months from start of course
Free exam access, with two attempts
Certificate of Successful Completion
Support and guidance in connecting to the marketplace to turn your learning into a career
See the full fall 2022 schedule of courses here: Interpreter Education at The Lab and register soon!
Professional Development – Upcoming Sessions and Masterclass 2022
You will not want to miss the next 3 professional development workshops and Masterclass 2022.
September 15th – Skills Improvement for Consecutive Note-taking with Katharine Allen (spots still available)
Katharine is back at The Lab this year for a 2-hour workshop. If you attended Katharine's session last year, you know that this will be a workshop packed with learning and hands-on practice. There is still time to register. This is a unique opportunity to learn from this dynamic, expert interpreter educator.
Members – Free / Non-Members –$55
October 20th – Interpreting in Domestic Violence/Sexual Assault Programs with Baljit Khun-Khun
Working with survivors of violence and sexual assault can be very difficult on many levels for interpreters. Understanding the process and the context of the work of healthcare and other practitioners in these settings can support the role of the interpreter and lessen the impact.
Members – Free / Non-Members –$30
November 17th – A Canada-wide Panel Presentation on Ethics in Practice with Kiran Malli (PHSA/BC), Allana Carlyle (WRHA/Man), Jane Langes (ECCOE/Man) and Grace Eagan (AALS/Ont).
Join this special presentation and hear how the leaders of 4 of Canada's largest healthcare interpreting services talk about ethics and their expectations of what ethical conduct really means in practice. It will be an important dialogue.
Members – Free / Non-Members –$30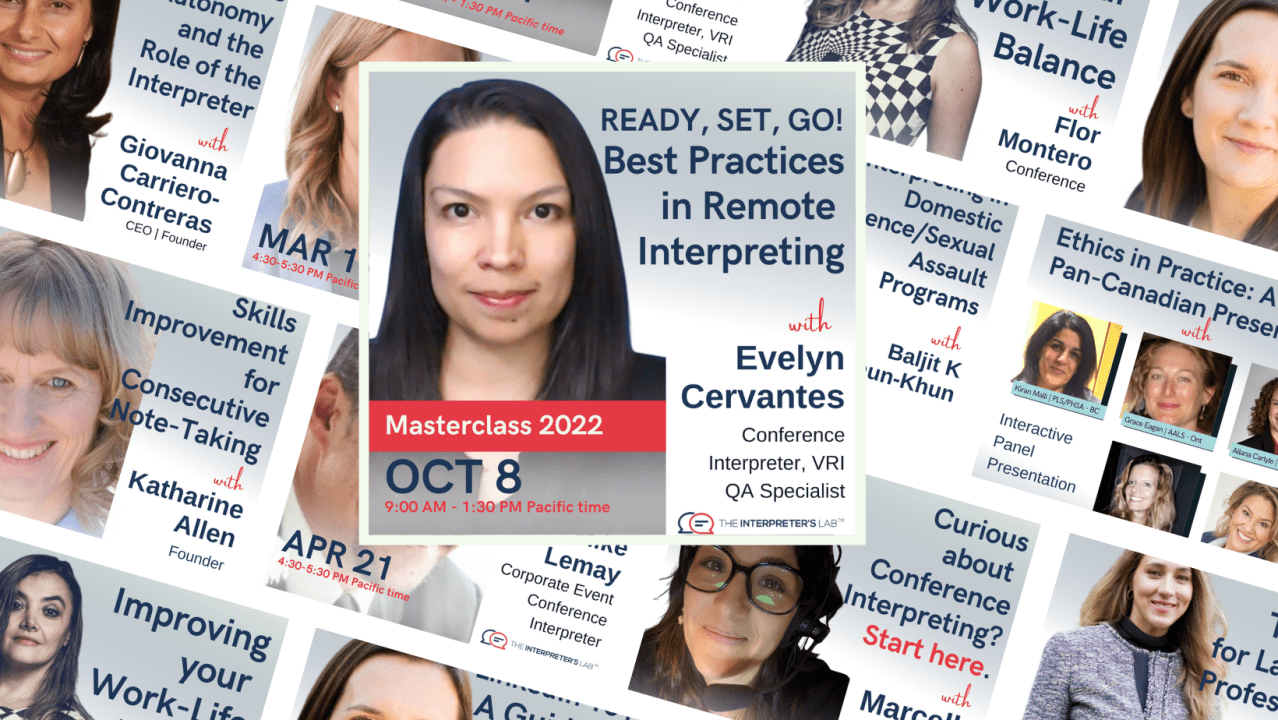 October 8th – Masterclass 2022 with Evelyn Cervantes – Best Practices in Remote Interpreting
This 4.5 workshop will give you information, practical knowledge, resources, and hands-on experience. Join us and find out why working as an interpreter in remote settings means so much more than just picking up your mobile phone, or logging into a Zoom call. In addition to looking, acting, and sounding professional, and therefore gaining that professional advantage, not paying attention to the right protocols and equipment can have disastrous effects on an interpreter's physical and emotional health. Don't risk it. Learn how to do it right, from start.
Members pay only $44 (register before September 30th) / Non-Members – $249
The Interpreter's Lab Professional Development Speaker Series 2023 is ready for a sneak preview!
This is what we have coming up in 2023, and that's just the beginning of the year!
The Role and Function of Questioning in Legal Settings
Dr. Debra Russell
Understanding Pain Descriptors in Medical Settings
Dr. Priodarshi Roychoudhury
Taxes for Freelancers – What's New for 2022
Anisia Hurst
CPA and Financial Advisor
Interpreters and Healthcare Practitioners in Dialogue:
Interactive Panel with Oncology, Occupational Therapy and Medical Social Work Practitioners
Ethics and Self Care -Demand Control Schema
Lorena Castillo
Certified Interpreter/Interpreter Trainer
Professional Advocacy – How ISO Standards can Help Improve Working Conditions (ISO) ISO
ISO TC 37/SC 5 Project Leaders
Become a member today and get all of these workshops included in your membership package. Membership starts when you register and is not based on a calendar year. Become a Member today, and you will get a full 12 months of sessions.