Interpreting in Mental Health and Complex Care Settings
CLASS SCHEDULE: TO BE ANNOUNCED
Working as an Interpreter in mental health settings is, without a doubt, the most complex of almost all settings. The "rules" for interpreting are adjusted to fit this particular and specialized environment. Mental health is very sensitive, and replete with stigmas, taboos, and diverse beliefs about what causes mental illness, what mental health is, and how to talk about it. It can be a very difficult area for the untrained interpreter. Combining health, culture, communication and language, the interpreter must navigate complicated processes of message transmission in a setting that is highly dynamic. This engaging and intensive educational program provides a unique training opportunity, the only one of its kind in Canada, and will give you the specialized skill base to work in an area of growing demand for interpreters.
This course will also prepare you to work in more demanding and complex care settings, such as gerontology (elder care), speech-language pathology, Medical Assistance in Dying (MAiD) and other dynamic situations.
Course Content
Interpreting in Mental Health and Complex Care Settings Model: The 3E's of the Collaborative Model
Dynamics and Communication Challenges of Working in Mental Health Settings
Mental Health Care System in Canada: Who are the Practitioners, Specialists and Agencies
Mental Illness: Categories, Diagnoses and Treatments
Pharmaceuticals and other Treatments
Cultural Issues Affecting Mental Health and the Mental Health Interview
Models of Intercultural Communication
Understanding the Terminology of Mental Health and Illness
Trauma, Secondary Trauma, and Interpreter Self-care
Plus
Interactive role plays, case studies, and lectures
Resources and Links
Guest Expert Speakers
Student Manual included
Course Certificate:
Students that successfully complete this program will receive a Certificate of Completion
Where Bilinguals Come to Learn
A Real Classroom with Real Instructors
What makes The Interpreter's Lab different is US, the TIL Team – our passion for this work, and our love of teaching. Our courses have been developed with students in mind. Our commitment to your success is our driving motivation. 
All of our courses include the following features:
Flexible Attendance: Learning is best achieved by participating in all the live lessons, but we know that things happen. If you cannot make a lesson, you can catch up by watching the recording of the session.
Extended Access to Training Program: All students have unlimited access to the training program for a period of 3 months from the start of the program. This access includes all the modules, the assignments, resources and the live classroom recordings.
Free Exam: All students are expected to complete the final exam with a 75% grade to qualify for a Certificate of Completion. Students are allowed two attempts at NO CHARGE during the course access period of 3 months.

Live Instruction/Blended Learning
This course is taught in The Interpreter's Lab blended learning model which brings together instructor-led lessons and self-directed content that students can complete in their own time.
Instructor-led lessons are conducted in a typical classroom setting – in real-time and online
Self-directed modules can be done on your own time, as you wish and when it is convenient for you. to give students better access, and more learning options.
Regardless of the lesson format, an instructor will always be available to support your learning.
All courses include the following components:
Live sessions (live means online or offline with an instructor)
Self-directed study
Practical offline assignments
In addition to the convenience, improved access, efficiency, and flexibility that our Blended Learning model gives all our students, the model also allows for continuous updating of resources and links – giving students more learning than ever before.
Length: 45 hours – 15 hours of live instruction, plus approximate 25 – 30 hours of online, self-directed course materials and assignments.
Prerequisite:
Interpreting in Community Settings – A Foundational Program (or comparable course of study verified through an online entry assessment) and Interpreting in Healthcare Settings
About our Instructors
The Interpreter's Lab training programs are led by experienced educators who have extensive experience in and knowledge of interpreting – including working in health, mental health, legal and social service settings. Our students gain the skills, techniques, professional standards, knowledge, and competencies necessary to succeed as community interpreters. 
Our curriculum has been developed based on the most promising practices and standards as set by ISO (the International Standards Organization) and the extensive expertise and real-world knowledge of our team.
CLICK HERE TO VIEW MATERIAL AND TECHNICAL REQUIREMENTS
Material and Technical Requirements
Desktop or laptop computer (smartphones or tablets are NOT recommended)
Zoom (recent version)
Headset / webcam
Stable internet (preferably high-speed)
Ethernet cable (suggested)
Additional device for self-recording (can be a smartphone or voice recorder – must be able to rewind and listen on-demand without issues)
Notepad, pen/pencil
Ability to access email/online browser simultaneous to the lesson
Why is this course important?
Working in mental health settings can affect interpreters even more profoundly than it affects the other practitioners in the room. Why?  Because the interpreter not only listens and responds to the stories and narratives that are being spoken, but they internalize them, dissect them, find their meaning in the other language, convert and then convey. This intense processing means that the interpreter becomes a player communicating OR sharing in the meaning expressed. In the understanding of what the speaker is saying, the interpreter empathizes and recreates the meaning, tone, and emotion of the event. This can have a distressing impact on the interpreter.
Mental health and other complex care situations (dementia, medical assistance in dying, speech-language pathology, forensic psychiatry and other settings) are particularly challenging, and often highly charged, dynamic settings for interpreters. In addition to the emotional pressure, the specialized context and distinctive terminology, mental health is also highly influenced by cultural factors. How an interpreter applies their role in mental health settings differs from other settings.
Due to the many-faceted demands of mental health settings in general as well as the challenges of cross-cultural mental health (which often involves concepts of stigma, symbolic communication and culturally contextualized interpretations of illness and wellness), the interpreter attempts to apply a "role description" that may not always fit with the session requirements. In addition, interpreters may themselves experience secondary trauma, either through reliving past traumas in the retelling of personal stories, or by bearing witness to another's crisis.
Our training programs prepare students to continue learning either independently or through our Membership Programs.
Who should attend?
This course is perfect for advanced interpreters who want to expand into more challenging areas of their profession and who understand the importance of additional training. This course is suitable for interpreters who already have training and working experience in interpreting in healthcare settings. This experience is an asset that will contribute to your learning.
Interpreters who are committed to professional excellence and advancement are welcome to apply to this course. If your goal is to receive real training for the real world, you will find that The Interpreter's Lab is the place to learn and grow.
This training program is designed to prepare practicing interpreters, or interpreters that have met the prerequisite conditions, to work in complex health care settings. Upon successful completion of this program, interpreters will be equipped to work in challenging mental health care situations.
What you will learn
Students will gain a solid foundation in working as a member of the interdisciplinary team, how to manage the conversational flow as well as issues of trust and accuracy, and gain a comprehensive set of skills, specialized approaches and mixed-method techniques that are critical in interpreting in mental health settings.
Some Important Things to Know:
Interpreting in Community Settings – A Foundational Program is a prerequisite for all our other training programs offered at The Interpreters Lab, but also gives students the solid foundation to start working immediately upon completion.
Fluency is understood as the ability to speak, read and write in a language with accuracy and ease on a variety of general topics. This course will not focus on translation – the written form of language conversion – but students will be required to read in English and their other working language.
View The Interpreter's Lab – Policy on Attendance and Certificates
Participants must be online, and visible, with their name visible (ensure your name is correctly spelled upon signing in) during the session. To receive a Certificate of Attendance for all Professional Development Workshops and Masterclass courses, participants must in attendance for the full session. Participants must complete any handouts or worksheets as/if and how required by the attending instructor.
Participants are encouraged to ask questions, participate in the chat, and complete any follow-up evaluation or feedback forms.
Visit our Terms of Use for terms and conditions, including our refund policies.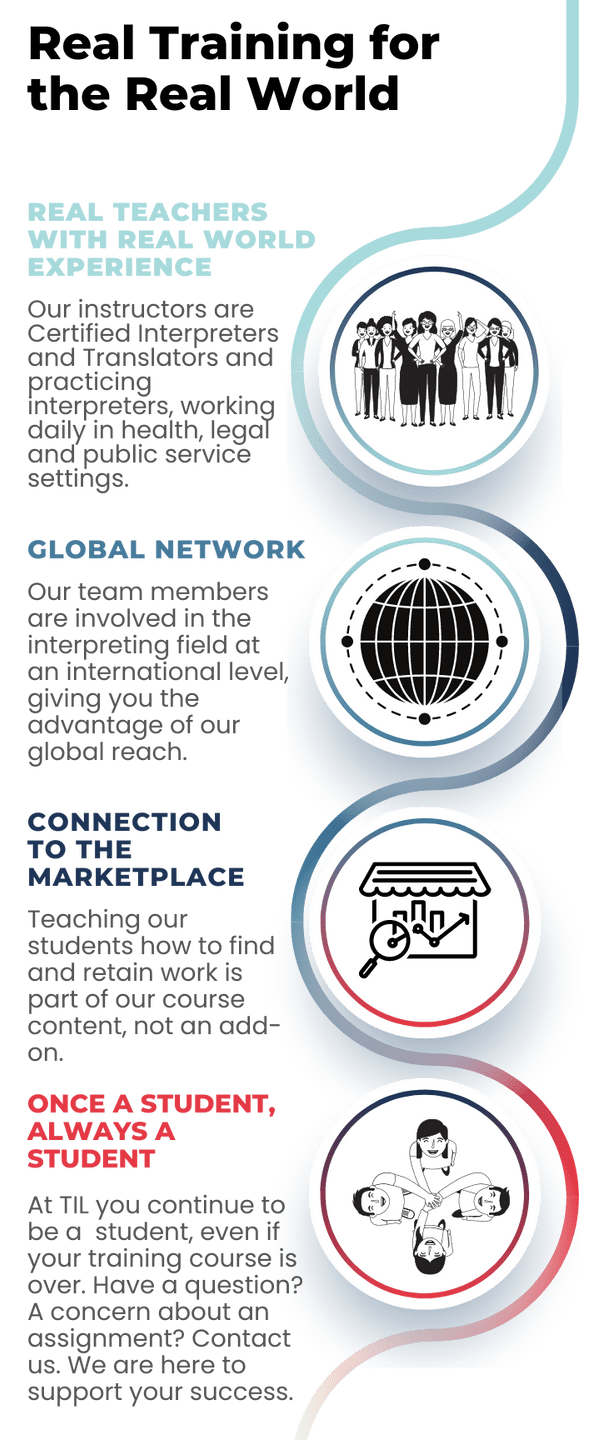 Get this training program as part of a bundle and save!
Training Bundles are an opportunity for you to substantially save on training costs. When you register for a Training Bundle you get two or more courses, with the option of adding workshops as well.
"Interpreters that work in mental health are especially challenged to ensure that the message is accurately and faithfully transmitted. This is for many reasons, least of which is the significant role that culture plays in concepts of mental health, mental illness and stigma. In addition to that, mental health issues and the system of care are a complex maze of interactive conditions and factors. At PLS we strive to only assign mental health appointments to interpreters that have taken the effort to gain that extra education and training."
"Excellent opportunity to learn about essential health interpreting skills. There was so much valuable information to be in a better position to work as a mental health interpreter. At the end of this training feel I have more tools in my pocket to do my job more professionally."