Professional Development Updates and More
Things are already heating up for 2023 and we still have some wonderful sessions coming up in 2022!
Make sure to join us for the following workshops.
Remember that as Members of The Interpreter's Lab you are automatically registered in the ALL workshops.
September
On September 15th, the wonderful Katherine Allen will be presenting, and teaching, Skills Improvement for Consecutive Note-Taking. This special 2-hour workshop is free to all Members of The Interpreter's Lab. If you would like to invite a friend to attend, they can register online HERE.
October
On October 20th, Baljit Khun-Khun, a nurse with BC's Women's Hospital Sexual Assault Program, will speak on Interpreting for Women's Sexual Assault Programs. This can be a particularly challenging and sensitive setting for interpreters.
November – Final Workshop of 2022
On November 17th we bring you the final session of the 2022 series, and it is a special one – a Pan-Canadian Panel Discussion on Ethics in Practice with the leaders of 4 of Canada's largest community and healthcare-based language service providers:
Kiran Malli – The Provincial Health Services Authority

Allana Carlyle – Winnipeg Regional Health Authority (soon to be a part of Manitoba's Provincial Health Authority)

Jane Langes – E-Quality Communication Centre of Excellence – in Winnipeg

Grace Eagan – Access Alliance Multicultural Health & Community Services / RIOMIX
I am so grateful to these wonderful women to take the time to come and talk to our members. It will truly be an important dialogue.
The 2022 Masterclass in on October 8th. Members can join for only $44 – that is a $205 discount. But you must register to participate. You can REGISTER HERE using the coupon code you've been given for the $205 savings.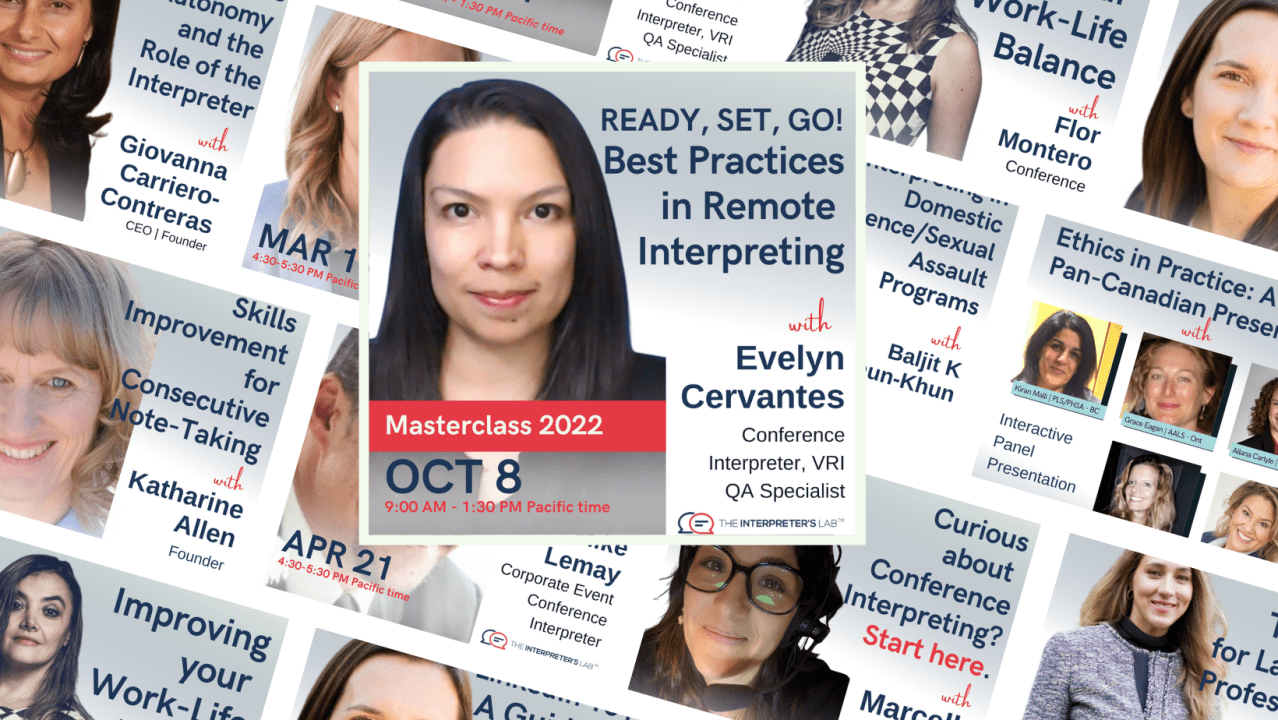 The 2023 Speakers Series
Coming in the new year – each workshop at The Lab is eligible, hour for hour, for PDUs / CEUs with CTTIC member bodies and OCCI (Ontario only)
January The Function and Role of Questioning in Legal Settings
February Understanding Pain Descriptors in Medical Settings
March Tax Strategies for Freelancers – What's New for 2022
April Using Standards to Push the Advocacy Agenda (ISO)
May Interpreters and Healthcare Practitioners in Dialogue: Interactive Panel
June The Challenges of Non-Binary Language in Community Interpreting
July Demand Control Schema – A Model for Ethics and Self Care
August Interpreting – Transferable Skills to Open New Opportunities
September Terminology: Best Practices for Interpreters
October TBA
November TBA
Masterclass TBA
If you have any other suggestions for topics, or speakers, or perhaps you have a favourite from 2021 or this year who you would enjoy learning from again – we would love to hear your ideas as we continue to put this schedule together.
---
Members Only Updates
Small group discussion coming to the Monthly Workshops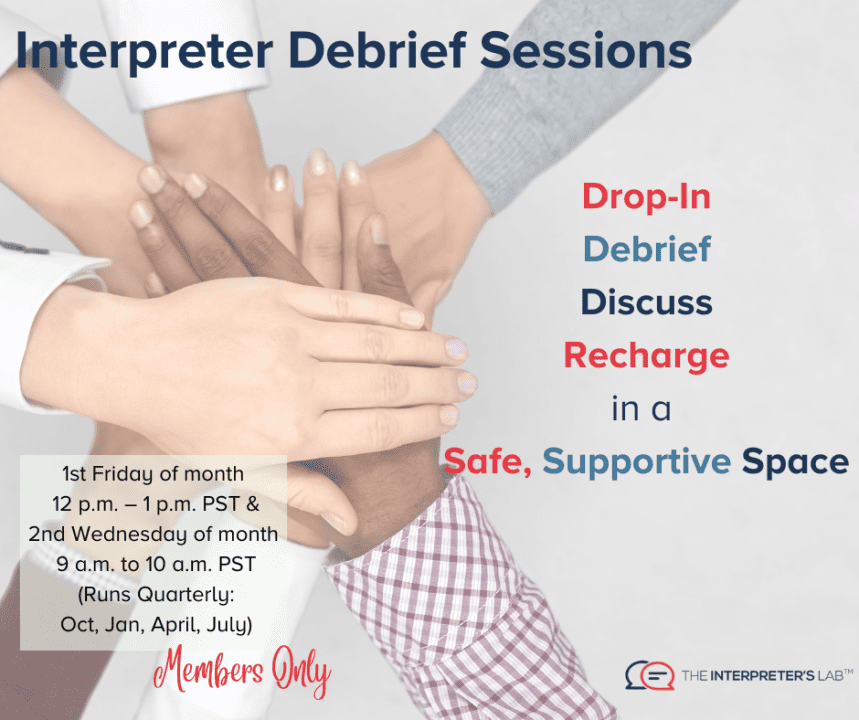 After 6-months in the current format, we are implementing improvements to Member benefits. One of the biggest complaints I hear from our students and members, and interpreters in general, is that the work can be isolating. Frequently interpreters do not have a place to connect on a more personal, or individual level. While our monthly workshops are amazing (given all the wonderful speakers and topics) the member-only portion of our time together could be improved. So, we will be introducing small group discussions so that we can better share and connect.
After the speaker has completed their hour or designated time (sometimes it is a longer session), we will break into small groups of 4-5 to share and discuss. To keep things efficient, each group will be assigned a facilitator/moderator (timekeeper) and a reporter (to take brief notes) to share with the large group. These roles will be volunteers from the group.
At times, it might make sense to break off into same language groups, or at other times it may be totally fine to stay in the large group. At The Lab we are responsive to your needs.
Goal
To provide a forum for interpreters to share and learn from each other in a safe space

To provide a space to debrief about challenging situations (ethics/difficult customers or clients/ working conditions, etc.)
Quarterly Cycle (months of occurrences): October, January, April, July
Dates:
1st Friday of the month 12 p.m. – 1 p.m. PST
2nd Wednesday of the month 9 a.m. to 10 a.m. PST
Schedule and process will be provided through your member portal and you can sign up for one of the session in the months of occurrence)
Process:
Small groups created in Zoom

Moderator and Reporter are assigned (volunteers will be selected from the Members in attendance)

Breakout rooms open and small groups divide

Small groups share for 15 mins

Large group sharing highlights for 15 mins
Why is the format changing?
The format is changing slightly to allow for more equal participation and discussion. Not everyone is comfortable speaking in a large group. The Lab is intended to be a safe, non-judgemental space for interpreters, and we hope that this small change will facilitate networking and discussion.
What if I can't stay, will I still get a Certificate of Attendance?
If you usually time your participation around the speaker's presentation and have other commitments, that's ok! If you are in attendance for the topic and the speaker, then you will get your certificate. Of course, we would love to have you stay for the full time, but we understand that life is busy.
See you in September with Katharine Allen and remember to check into your Community Hub for more updates and latest information
Angela and the TIL Team